The Château
Our wines are imagined and created with passion in a family in Montagne en A.O.C. Montagne Saint-Émilion.
Our philosophy
Our life has always been guided by the desire to collect memories, creating moments that we will cherish forever.
A beautiful bottle of wine will always mark this moment, it will share your meals/dress up your beautiful tables and that's why we created château ARBO .
Respecting our environment is one of our values. It is about being conscious and not wanting to impact the planet. We are improving day by day to adopt/adapt an approach that is more and more respectful of the environment. Thank you for supporting this approach and giving it a meaning since the beginning of Château ARBO.
We look forward to going even further with you.
The vineyard
The Château ARBO extends over 6.5 hectares, which at the time of our acquisition were not in good condition. The restructuring of the vineyard became our priority, in order to obtain a beautiful raw material to create a Great Wine.
We have 12 different plots (in green on the map), with an average age of 35 years. Planted between 1950 and 2021.
Situated on hillsides, with a beautiful exposure, the terroir is made up of a soil of limestone rock, there is a certain magic in all this...
For one thing is certain: Great Wines are not born by chance!
These are born in places where the balance between climatic and geological factors is perfect, this is what we call the Terroir.
We are composing here with 3 different types of soils:
clay-limestone
silty-gravel
sandy-clay
The vine, this work of each moment, where each of our 39 000 vines requires a care and a particular attention. Dorian works these lands, our vines, with passion.
The vinification
This is where the magic happens to turn grapes into wine!
Harvesting takes place between the end of September and mid-October depending on the vintage and the maturity of the grapes. Once harvested, our grapes are placed in concrete vats, named after the cities that inspire us every day.
The starting signal of the vinification is a pre-fermentation cold Maceration during 3 days to extract the fruity aromas.
This is followed by alcoholic fermentation (*which transforms sugar into alcohol using yeast), followed by devatting (*here the solid parts - pips and skins - are separated from the liquid part - the juice) and finally by malolactic fermentation (*natural deacidification of the wine).
The assembly
We blend 88% Merlot and 12% Cabernet Franc, and there is no doubt that we produce our wine in the way we feel is most responsible, beautiful and passionate.
 Breeding
It's time to put our wine in the barrel. We select with our coopers, the origin of the oak, only French, the grain of this one, the toasting of the wood... So many parameters which will bring complexity, flavour and aromas in our wines.
The ageing of Château ARBO lasts between 12 and 14 months depending on the vintage. We have chosen to use 50% new barrels and 50% one-wine barrels (*that have already been used once) in order to offer you fruity and woody wines.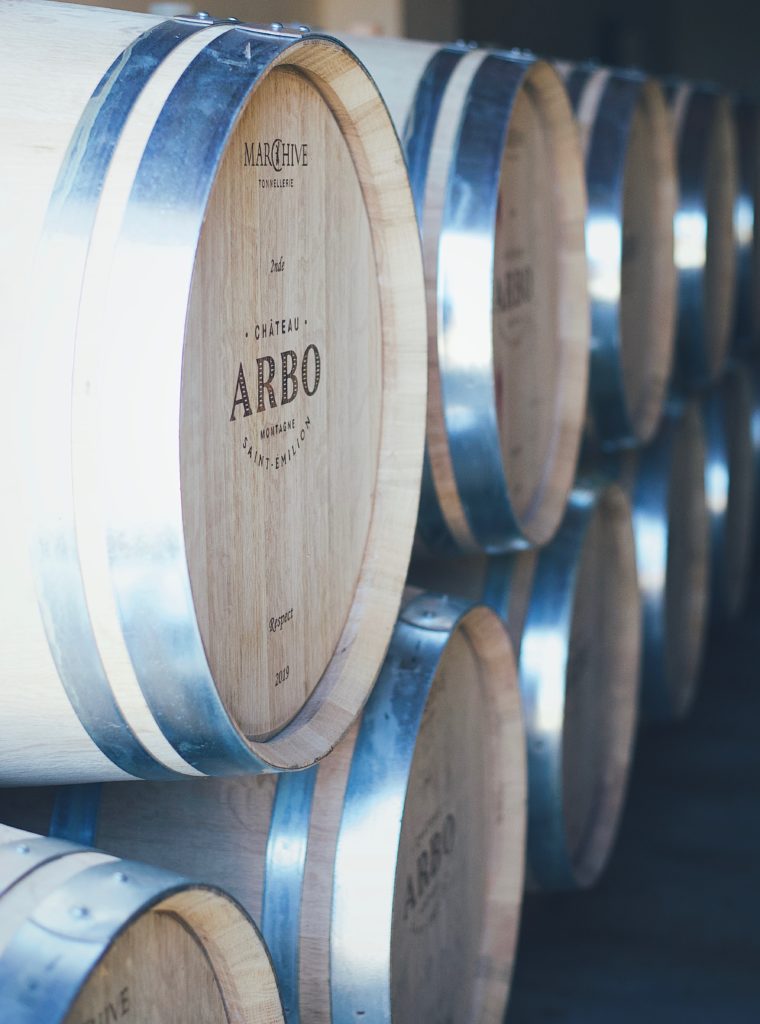 Our wish? That our bottles alone may delight your taste buds while decorating your table, during your good and beautiful meals.
We wish you a wonderful tasting experience.